Debate Team Championship Appearance
The Hopewell Valley Central High School Debate Team recently finished at the top of the Colonial Division in the local CVC Debate League, making it to the league's championship against Robinsville. 
Led by team captains Samiyah Syed and Lola Banta, this marked the team's first championship appearance since the 2017-18 season. 
"I think the team was so successful this year because we all became close really fast," noted Edie Pressel, a senior member of the Debate Team. She sees the CVC league's return to in-person debates- with COVID-19 regulations- as helping to promote this increased collaboration.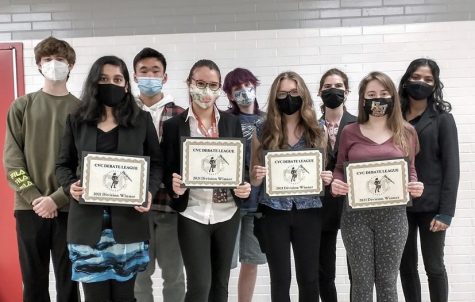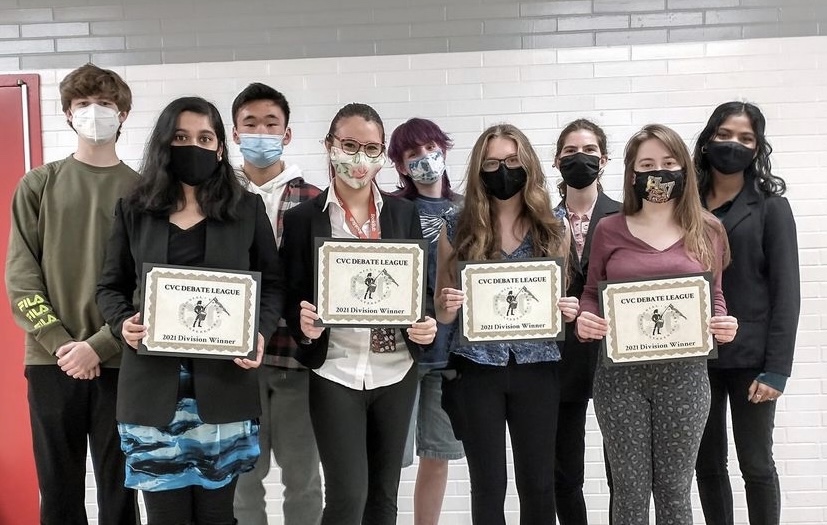 Banta also stressed the significance of a supportive and engaged environment, especially between leaders and newer debaters, citing "the team's dedication and willingness to learn" in making the season special. 
When asked about her favorite part of the club, Banta highlighted "the high you get after winning a really tough debate." In fact, with a varsity and a junior-varsity team as well as weekly competitions that mean leaving classes early to get to another school, the Debate Team is closer to a typical sport than one might imagine. 
Participants form an argument based on a pre-set topic called the "Resolve," this year's being "The United States federal government should substantially increase the protection of water resources in the United States." Partner groups will argue either Affirmative, meaning they form a plan for how to implement the changes advocated for in the Resolve, or Negative, meaning they attempt to convince the judge against adopting the Affirmative team's plan. 
The National Speech and Debate Association's potential resolutions for 2022-23 concern pressing political topics, such as multilateral greenhouse gas emission reduction regimes or security cooperation with NATO in the areas of artificial intelligence, biotechnology, or cybersecurity. 
As Pressel put it, participating in the Debate Team "has taught me how to form a cohesive and well-backed argument and has forced me to be more in-touch with the current policies we have in place in the US." 
When it comes time for a competition, an Affirmative or Negative team will be pitted against a partner group arguing the opposite side, and a judge- one of the Debate Team coordinators from a different school- will award points based on argument, evidence, analysis, and delivery. 
Essentially, after some research, team strategizing, and practice comes the fun part: standing at a podium and doing your best to destroy the other team's argument. If you have a competitive spirit, want to improve your speaking skills, or love logical fallacies, consider joining the Debate Team for next year's season. 
Leave a Comment