Covid Update
The coronavirus has clearly had a huge impact this school year, in many ways, so here's an update on what we know. We interviewed our amazing principal, Ms.Riley, about the status of a change in our school's masking policy and how Covid has impacted her management of the school, on the daily. Since the beginning of the year, CHS has had a mask-mandating policy as per New Jersey state government policy, but as the year goes on students and teachers alike wonder if a lift is in sight and what it will mean. 
To begin the interview, Ms.Riley answered a question regarding the amount of Covid cases this year in relation to what was expected. She explained that she wasn't sure what to expect in case numbers, but attributes the relatively low number to the efforts of staff and students. Looking forward, we asked Ms.Riley about a possible lifting of the state-wide mask mandating policy. She was cautiously hopeful in wanting a mask-optional policy, though mentioned the newly-found Omicron variant and a recent increase in HVCHS cases as potential setbacks.
 She further noted that when the mandate is lifted it will be important to maintain social distancing, whenever possible, as well as self-monitoring for symptoms. However, for that to happen she acknowledges that cases and transmission rates will need to be quite low. She has concerns about the ability for that to happen with post-Thanksgiving break case increases affecting both vaccinated and unvaccinated students.
Lastly, we asked Ms.Riley what challenges she now faces on a daily basis due to the Coronavirus and how it has affected her ability to manage the school. She described that there is an added layer of "planning and consideration for every decision" at the high school in order to keep everyone safe. 
She also acknowledged that the pandemic has taken a mental toll on students and staff, has affected social media interactions, and caused economic issues for many families which is something that continues to be taken into consideration. She concluded on a positive note, looking to the new experiences the pandemic enabled, that otherwise would not have happened such as the outdoor fall pep rally, wrestling meets on the turf, and the freshman drive-thru celebration.
And so, to recap, Ms.Riley appreciates the daily effort for students and staff to help mitigate the spread of Covid, looks forward to the day when cases are low enough to have a mask-optional policy, has some concerns of a case increase following winter break, but looks positively on the experiences the pandemic has caused, as much as one can!
Leave a Comment
About the Contributor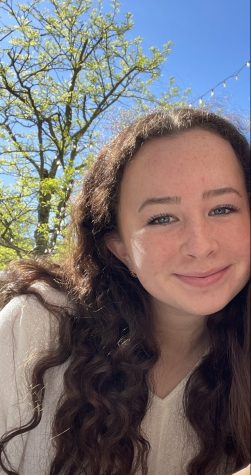 Kyra Malloy, Staff Reporter
Kyra Malloy is a Junoir at HVCHS and a Staff Reporter for the Bulldog Reporter. Outside of Newspaper Club, she's part of the girl's lacrosse team and...