Five Hopewell Valley Seniors Honored in National Art Exhibition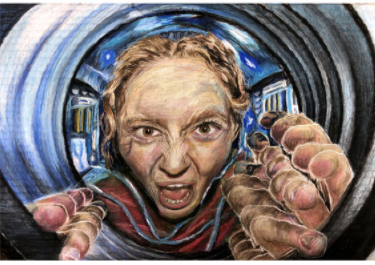 Last month, 1,665 students submitted their artwork to the National Art Education Association (NAEA) as a part of their juried student exhibition for members of the National Art Honor Society (NAHS). Submissions come from around the country to be reviewed by professors from prestigious art schools, with only a small handful of pieces being picked to be honored in the exhibition. 
Despite the low percentage of works accepted, five of our very own seniors at Hopewell Valley were chosen to be a part of this year's display. Among these students are Sophia Noto, Cormac Dow, and Sylvia Hemenetz, as well as Brianna Fish and Sophia Venezia, who are receiving this honor for the second year in a row. Hopewell's NAHS students account for 12% of all the jury-selected artwork. 
In previous years, only two pieces from Hopewell were selected, so our students were through the moon to have multiple works selected. These artists reported their surprise in a recent interview, saying they couldn't be happier. One senior explained how they literally jumped for joy upon receiving the news. 
Generally, the exhibition has been held in person at the NAEA headquarters in Alexandria, Virginia, but this year, it will be held virtually in light of global health concerns and to ensure the safety of the students and the general public. Despite this change, our seniors are thankful that their art will be accessible to family members, friends, or those in the community. 
The virtual exhibit will be available from January 18, 2022, to April 29, 2022, at www.arteducators.org. 
The exhibit is exclusively for artists who are members of the NAHS program. The HVCHS chapter has been advised by Ms. Lora Durr for the past three years. It was a delight for the chapter to hit the ground running this year after being slowed down by Covid-19 restrictions in the past. 
The awarded seniors tell the Bulldog Reporter that they love being together as a group and having the opportunity to develop ideas from one another. So far, they have enjoyed working with artists from every grade level, and they appreciate seeing many different styles and levels of art in one space. Our chapter hopes to reach out to the community and give back, sharing that they plan to do community service projects soon. 
The seniors thank Ms. Durr for all the support she's provided, as well as the students enrolled in the AP Art class, who have provided them with inspiration and encouragement this year. 
Leave a Comment
About the Contributor
Carina Estrada, Staff Reporter
Carina is a Junior writer for the Bulldog Reporter. Outside of Newspaper Club, Carina works as a stage manager and is a part of the girl's basketball...