The Diary of Anne Frank Play Review
Every time I see one of Ms. Rochon's productions, I just know that it will be a magical experience. The play, The Diary Of Anne Frank, definitely was that. The acting and the attention to detail was extraordinary. It was a deep and emotional experience — a very solemn, yet fun, play that highlights the joyful parts of life in the annex and the absolutely terrifying parts as well. The actors and actresses did a wonderful job expressing their characters and embracing the mood of the story, as well as showing how extraordinarily stressful daily life was for Jewish individuals and families during World War II.
Story
The story of the two years that the Van-Dann and Frank families spent in the secret annex is a story of fear, boredom, joy, bickering, hunger, and more. The majority of this performance was based upon daily life in the annex, with very few large, course-changing events. It was similar to a collection of small stories from the annex strung together. Throughout the performance, I dreaded the end, when the Gestapo discovered them. It was gut-wrenching to know that by the end of the story, seven of the eight characters would die at concentration camps. This play was a reminder of how utterly terrible the Holocaust was and that we can never forget these parts of history.
Acting
The acting was flawless. Every actor was always in character and engaging in whatever action they were taking. One aspect of the acting that I enjoyed was that during the intermission, the actors stayed on the stage, were quiet and improvised the whole time. 
Set and Lighting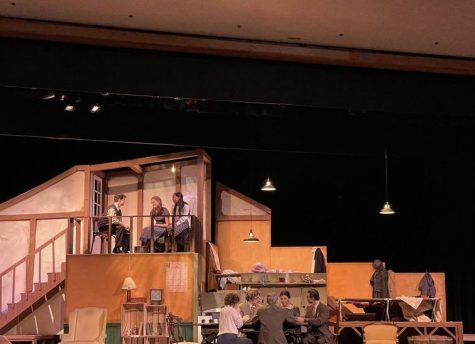 The set was very large and took up the whole stage, which was remarkable. It incorporated many levels, which especially added to the performance and provided lots of perspective and depth. The set was beautifully constructed and painted, with acute attention to detail. All of the lighting choices set the mood very well, and I liked that there were some unique touches of light. For example, when Anne was having a nightmare, intelligent lighting was used, giving her a moving, swirling effect. Also, the "moonlight" coming through the window in the attic was a charming touch. Lastly, it was especially engaging when the rest of the stage went dark and the spotlight was on Anne, who was talking to the audience.
In conclusion, The Diary of Anne Frank was incredible. The story itself is very sad, but the play does a wonderful job showing some happy parts. 
Leave a Comment
About the Contributor
Devin Brown, Staff Reporter
Devin is a Freshman at HVCHS and a Staff Reporter for the Bulldog Reporter. Outside of Newspaper club, she likes to bake, cook, see her friends and be...