The Infamous George Santos
The long list of George Santos' lies ranges from his volleyball talents to his grandparents surviving the Holocaust, causing calls for his resignation. What we do know about George Santos is he is a 34 year old high school graduate from Queens, of Brazilian descent, and that's about it. 
After an unsuccessful 2020 campaign, Santos won his House seat in 2022 for New York's 3rd congressional district, the state's wealthiest. His campaign's falsities were only found recently, months after he won. Santos originally claimed to have gone to Baruch College, supposedly graduating with a bachelor's in Economics and Finance. When a representative confirmed there was no record of him attending the college, Santos revised his statement, telling the New York Post he "didn't graduate from any institution of higher learning." 
However, the most disturbing of Santos' lies are those about his family's heritage. Santos claims his grandparents fled the Holocaust with Ukrainian ancestors when in fact all lineage research has pointed to Brazil. This has fueled many to call for his resignation. Furthermore, the demands for Santos to step down were fortified by the falsities regarding his credentials, as Santos ran his campaign on being a successful businessman. 
Before the election, he told voters he had worked for Goldman Sachs and Citigroup, in real-estate, with strong revenue production for both. Contrary to his claims, Citigroup dissolved their real-estate sector while Santos was in high school. Both companies have since stated they have not found any record of employment for Santos. 
While there were many more lies spun, possibly the most entertaining and least relevant one is whether or not Santos was a drag queen in Brazil. An image has resurfaced on the internet of Santos participating in a street parade, wearing an extravagant red dress and makeup. Yet, Santos denied these claims on his Twitter soon after. Following consistent days of harassment from reporters, Santos insisted he wasn't a drag queen in Brazil, he simply stated he "had fun at a festival" when he was younger. All of the above has led to obvious strong questioning of Santos's credibility as voters say he has lost their trust.
So how did this happen? Why was the verification process so minimal before endorsements from House members like Elise Stefanik. The short answer is politicians and voters alike were impressed with what they heard. Someone so young with such an extensive and successful background in economics while the U.S. experiences high inflation rates amongst other issues was appealing to voters. Whether the blame of verifying Santos's history is on the voter or party, is up for debate with NY Republican leadership promising to be more extensive in the future. If the experience of electing George Santos is able to be learned from it is that really researching who you're voting for, instead of blindly making a decision based on party affiliation, is crucial.
Despite all of these fabrications, Santos was assigned to the House's Small Business Committee and Science, Space, and Technology Committee by Kevin McCarthy and other top GOP leaders. Both assignments are to low profile committees opposed to the more prestigious ones Santos reportedly lobbied to get but was refused by GOP leadership. These assignments led to outrage among fellow republicans as some called for his resignation over his fabrications. In the past week, Santos told GOP leadership he decided to temporarily step down from his committee assignments "until things get settled" referring to the media frenzy surrounding his campaign lies. With a brief hiatus from his influence in policy, maybe we'll find out who George Santos actually is, if that's his real name. 
Leave a Comment
About the Contributor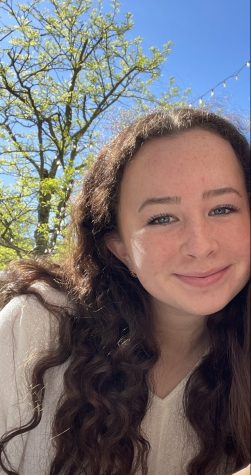 Kyra Malloy, Staff Reporter
Kyra Malloy is a Junoir at HVCHS and a Staff Reporter for the Bulldog Reporter. Outside of Newspaper Club, she's part of the girl's lacrosse team and...