ThesFest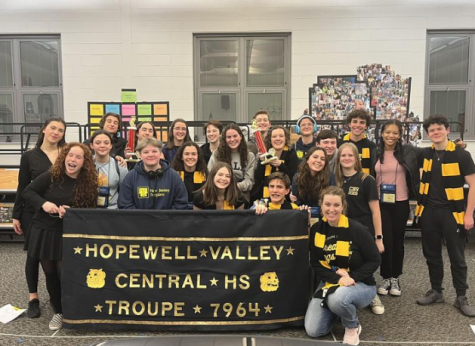 Hopewell Valley's thespian troupe recently participated at New Jersey's annual Thespian Festival, which took place at Robbinsville High School from January 7th-8th. HVCHS is proud to have many award-winning performers in its theatre program. 
What is ThesFest? 
New Jersey's Thespian Festival, also known as ThesFest, is an event where, over the course of two days, theatre students from all over the state have the opportunity to participate in singing, dancing, and acting workshops. There is also a competition segment of the festival, where students perform in front of judges and have a chance at making it to Nationals, which will take place in Indiana this summer. 
Who Won an Award? 
Congratulations to senior Ava Echternacht for winning "best thespian" for being an excellent representative of the ideals of the International Thespian Society, and for her outstanding effort in the theatre program over the past two years. For contrasting monologues – juniors Jake Brown and Ella Williams and seniors Camille Rosenthale and Ava Echternacht. For solo musical theatre, junior Jack Elliott. For short film, junior Rachel Thornton. For duet acting scenes, Ava Echternacht, Camille Roselthale, Jake Brown, Ella Williams, and senior Frankie Bancroft. Congratulations everyone!
The Diary of Anne Frank
HVCHS' fall play came in second place for the Chapter Select category, which is when a section of the play was recorded and submitted to the judges, then featured in the Chapter Select Showcase. Congratulations to Camille Rosenthale for winning best actress for her portrayal of Anne Frank, and to sophomore Leo Schmidt for winning 2nd place for "best supporting actor" for his role as Mr. Düssel. For more information about the Diary of Anne Frank play, check out the my review of the show!
Leave a Comment
About the Contributor
Devin Brown, Staff Reporter
Devin is a Freshman at HVCHS and a Staff Reporter for the Bulldog Reporter. Outside of Newspaper club, she likes to bake, cook, see her friends and be...