Hopewell's Own Golfing Star in the Making – Megan Meng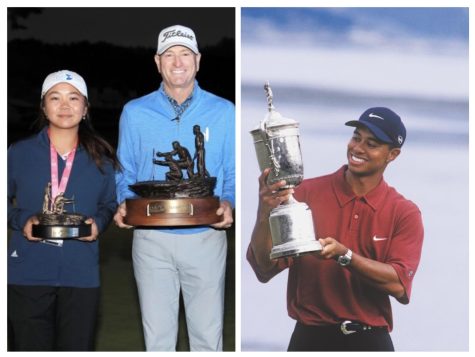 What do Tiger Woods and Megan Meng, a junior at Hopewell Valley Central High School, have in common? They have both shot a final round score of 64 to win a golf tournament at the iconic Pebble Beach Golf Links in Monterey, California, a place where golfing legends are made. Tiger shot his final round 64 in a tournament in 2002, and Megan shot her final round 64 in a tournament last month. Those watching the Golf Channel a few weeks ago may have seen Megan birdieing the par-5 18th hole at Pebble Beach as she clinched her victory in her tournament.
In fact, the wins and awards keep piling up for Megan. Last year, as a sophomore, she was named the NJ.com high school golfer of the year for the entire state of New Jersey.  
During an interview for this article, Megan noted that she was introduced to golf at an early age by her father, who also enjoys playing. Shortly thereafter, Megan joined the "First Tee" program, designed to introduce new golfers to the sport. She participated in her first official golf tournaments at age seven, though they were just for fun at the time. Over the years, Megan participated in golf summer camps, junior events, and tournaments, picking up tips and advice from those she met along the way. Her curiosity and talent blossomed, and now, she enjoys the competitive aspect of the game. 
Megan stays motivated by continually trying to improve her golf game and competing against other talented golfers. She also appreciates her golfing community and meeting new friends through her golfing experiences.
Between practicing regularly and traveling to approximately 12 tournaments each year, golf takes up much of Megan's time. However, she says that she strikes a balance between golf and school, just as many of her classmates do with their own extra-curricular activities. 
In the future, Megan expects golf to continue to play an important role in her life, and she is considering pursuing golf at a Division 1 university. But for now, Megan is focusing on the present and embracing the student-athlete life.
Leave a Comment
About the Contributor
Kirthi Suryanarayan, Staff Reporter
Kirthi Suryanarayan is a Freshman  at HVCHS and a Staff Reporter for the Bulldog Reporter at HVCHS. When he's not in newspaper club, he's playing video...